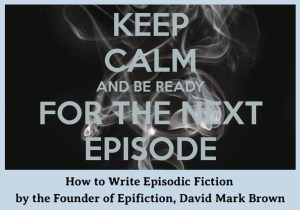 This post is the second in a series. For the first post (making a case for episodic fiction and emphasizing the importance of having a clear EndGame), click here.
Wikipedia defines an episode thusly: An episode is a coherent narrative unit within a larger dramatic work such as a film or television series. An episode is to a sequence as a chapter is to a book.
In its Most Basic Form, an Episode is an Event
So, a serial (or sequence) is a bunch of related episodes published consecutively, while an episode is a "coherent narrative unit" describing an event. Episodes have to be:
Related to each other: A book of short stories or an anthology doesn't count. On the other hand, episodes don't have to be chronological or sequential. They don't have to be about the same characters.
A coherent narrative unit: This is the biggie. Episodes tell stories. Episodes have an arc with a beginning, middle and end.
Us writers are typically taught to write stories using things like scenes and bridges, ups and down, etc. Anymore, most ebook chapters are typically one to two scenes cleverly ended moments before the actual end or resolution of the scene (so the reader has to start the next chapter to figure out how the scene ends). Because of this, a single chapter is almost never an episode.
Chapters are NOT Episodes
My early experimentation (almost four years ago) with episodes started as a means of developing the backstory of my main characters before writing a novel. Because of this, I typically chose a traumatic event from the character's past, inserted a story arc and wrote a short story. They involved a moral of some sort (to describe the impact on the main character). They contained short term resolution while opening up longer term questions about the character's future.
I wanted readers to get to know my main characters as masters of their own worlds, and then be curious enough to read a longer story about those worlds colliding.
I didn't realize it at the time, but I was creating episodic fiction with each episode around 30 to 50 pages long. After creating seven shorter episodes and three longer novels, I realized I enjoyed creating the shorter episodes more.
Episodes are Lightning in a Bottle
Dense, compact, efficient little pops, episodes are like punches from Bruce Lee in comparison to books being like wild haymakers from a drunken Lee Marvin. Episodes have no time for wasted words. Unlike short stories, episodes aren't irrelevant one-offs reserved for snooty and wanna-be-snooty readers alike. (Oh yes I did!)
Episodes strung together provide the heaviest genre binge readers with the kind of content they need in packages they can snort on the way to work. Episodes have everything novels have, without the water. When done right, episodes have the ability to become the fodder–the hard stuff–of true fiction addicts. And aren't these the people most writers want to write for?
Focus on the Arc(s)
When done wrong, episodes become either incomplete (ie. chapters), or they suffer from amnesia/redundancy–starting over too much or too little. The trick to writing punchy episodes that contain the right amount of plot complexity is to remember all of your arcs.
EndGame: the overarching big picture goal
Mini-series: for added thrills, bridge a small number (2-6) of episodes together with an intermediary goal.
Single Episode: every single episode must resolve a problem of its own (with the exception of the cliffhanger two-part episode).
A single episode arc should start with the introduction of a new problem/event (or possibly pick up from where the end of the previous episode introduced the new problem). The middle of the episode describes the efforts to come to grips with the problem/event. The middle should include ratcheting tension and stakes. The end describes an either successful or unsuccessful attempt to resolve the problem/event. Commonly, the end will provide resolution of one problem/event just to introduce the next.
Do all this while also referencing the mini-series arc, the endgame arc, and altering your character dynamics with either a death or a ressurection and you're golden. But, we'll have to wait for the next posts to get into the details on these! Next up, we'll focus on episode transitions and incorporating mini-series arcs.
Sound off in the comments if you disagree or have anything to add. I'm by no means the Jedi Master of this stuff (although I have reached advanced Padawan levels).