Over the last few years, I've been busy publishing novels, shorts, novellas and serials within the DMB universe. (Yes, I named a universe after myself.) After fabricating the life of a dime novel writer by my own name, I began producing lowbrow pulp fiction known as the Lost DMB Files. Convinced I could further damage genre fiction, I took on the pseudonym, Jim Buckner, and sullied it with rollicking science fiction thrillers known creatively as the DMB Files. Parallel to the DMB Files, I've also started a series called Relic Hunters (same characters, different trajectory).
Never content, I muddied the waters of YA dystopian literature with a serial based on The Green Ones (To be released winter of 2013/14).
Having been labeled (by myself) master of the tightly-focused action scene and lord of diabolical dialogue, I've turned my double-barreled literary genius toward the familial relationship. Blasting relationships apart with all the subtle grace of a two-bit thug sticking up a Kwik-E-Mart, my favorite pastime is deftly stitches them back together without losing sight of tightly paced plotlines. Whether reading Fistful of Reefer, De Novo Syndrome, Paraplegic Zombie Slayer or the first season of The Green Ones, readers can expect flawed characters, atmospheric worlds and gripping stories.
My influences include Frank Herbert, Roald Dahl, Cormac McCarthy, Suzanne Collins, Elmer Kelton, Sergio Leone, Joss Whedon and Ronald Moore. Whether looking for pulpy adventure, Western, horror, punk, science fiction, twisty thrillers, or dystopian fantasy I invite you to enjoy the show!
As a little scamp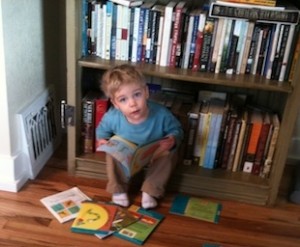 Raised in Central Texas, I learned to ride horses at a young age. Then learned to hate them after a disastrous attempt to impress a girlfriend. I was five.
I then wrote my first award-winning story in 4th Grade, titled "The human bean." It wasn't a play on words. My profound piece about the human condition blundered into a mutant story about a human/legume crossbreed. (Curse you, phonics! But hello, commercial fiction!)
All growed up
Falling in love with a chainsaw wielding mountain woman forced me to reconsider my chosen career path–Hemingway on a sailboat. Instead I illuminated the path of life to college students as a spiritual guide for over a dozen years while my wife (now a chainsaw wielding pharmacist) squirreled away enough acorns for me to embrace the sultry world of commercial fiction.
After legally snatching a little Vietnamese boy and creating another son via more natural means, our happy family settled in Idaho. I still rides horses, but only in black and never for fun.
Origins of the Redneckgranola
Raised on a Texas cattle ranch and schooled at the U of Montana (Berkeley of the Rockies), I am the world's most self-proclaimed redneck granola, and one hell of a human bean. When not spinning genius into the aethernet I obsess over home wine making, earthen construction, social justice, ultimate Frisbee, fantasy football and industrial hemp.
If that mix don't simultaneous make your blood boil and your fingertips come together while saying, "excellent," then I just don't know what kinda something you are. But you're something, so welcome to my porch. I'll get some sweet tea for ya'.