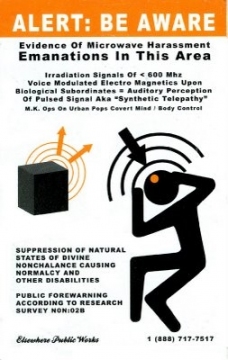 Heard any voices in your head lately? I know I sure have.
While I'm fairly sure mine are simply the result of the sort of self-willed madness we writers invite upon ourselves in the name of creativity (I'm winning three separate arguments with myself even as I type), your voices could be another result of government interference.
And I'm not talking about the oppressive polity of overly-bored and underly-creative legislators. No, this time I'm talking about the microwave portion of the electromagnetic radiation spectrum. Who knew, but during the cold war the United States government funded research that revealed it was possible to deliver audible clicks and noises directly into the human head via microwaves.
The phenomena has been labeled the microwave auditory effect or the Frey effect, named after the researcher, Allen H. Frey.
Nothing sinister yet, but we all know that everything during the Cold War was most certainly taken to sinister extremes only to be covered up and disavowed by Ronald Reagan (conveniently effected by his own administration's mind ray). [Read more…]