Jim Buckner's (aka me) first book has arrived, and here is what people are saying about it.
"The rabid, frothy pacing gripped me like the iron jaws of a junkyard dog and left me crying out for a literary tetanus shot! More please."

"I only smoke after sex and reading a really good book. This novel had me lighting up before I could set it down."

"My first thought: Good Lord, not another first person POV series. My last thought: Thank you, may I have another?"
Who exactly are these people? Well… I don't know. But whoever they are, they're certainly real. As real as Jim Buckner himself. (Why would you even ask?)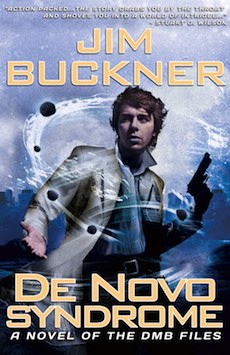 The mysterious universe alluded to by the Lost DMB Files comes into sharper focus with the DMB Files as Professor Buckner discovers how deep the rabbit hole goes. The year is 2025, and the nation of Texicas is over 100 years old. Those behind its founding preserve a secret 1000 years older. The truth is waiting.
If you have read this classic in the making already, please post a review! For the rest of you, get to reading! (and recommending to others. Unlike me, I know the rest of you have friends.)
De Novo Syndrome: He'll do anything to get her back, including evolve.
When Jim Buckner's daughter is kidnapped, his obsession shifts from discovering the lost genetic sequence for awakening human immortality to discovering who took her and how to get her back.
The journey reveals a hibernating side-effect of his research, telekinesis. At the heart of a secret war raging for over a century, Buckner discovers how far he'll go to get his daughter back–as far as it takes.
A father-daughter story written as paranoid thriller, De Novo Syndrome centers on a father learning to dedicate his heart, rather than his work, to his daughter. The fact his life's work has been to save his daughter's life, complicates the matter.
Coming soon: Desert Gods, the second novel of the DMB Files