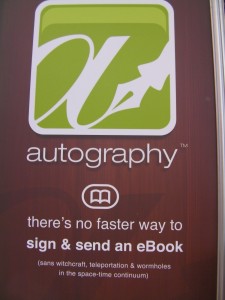 To inaugurate my teaming up with a brand new (and rather spiffy) service called Autography, I'm offering a FREE autographed EBOOK of any one of my first six novels! But act fast, the deal stands only for this Friday and Saturday, June 28 and 29.
Just click here and follow the simple steps. When the time comes to download, you will be able to choose between file formats for Kindle, Nook, iPad/iPhone, Kobo, Droid, etc. So no worries about compatibility. (And the book will be DRM free for easy use anywhere.)
I'll post more about Autography once I get a better hang of the service. So far, it makes me prance around like Homer Simpson in the Land of Chocolate.
This could be your last chance to stake a claim to a small piece of history before the initials DMB become synonymous with David Mark Brown (rather than Dave Matthew Band or perhaps Digital Multimedia Broadcasting).