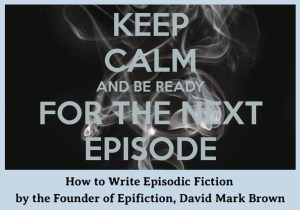 In this post, I'll discuss the specific requirements for writing on the Epifiction platform. So, if you aren't in that category, this doesn't apply directly to you!
First and foremost, Epifiction is currently for upper elementary and middle grade students. Know your audience and remain appropriate at all times. When in doubt, take it out. If anything is found to be potentially offensive, the content will be removed from the cue before it goes live.
Know Your Audience
Along those lines, if you haven't written content specifically for 8-14 year olds before, save yourself a lot of grief by checking out some of the most popular content out there: Captain Underpants, Diary of a Wimpy Kid, Harry Potter, The Hunger Games, etc. A little advanced research and reading will save you tons of waisted time down the road.
Think Like a Teacher
Almost as important as knowing your audience is knowing how teachers think. Often, teachers will build entire educational units around the reading material. A fictional world has the ability to tie in so many other important aspects of education. When you begin plotting out your idea, make sure you keep other disciplines in mind–things that teachers could easily incorporate into the classroom directly from the serial you are writing. Warning: Don't go overboard on this. The stories shouldn't come across as cardboard or cheesy due to the excess of educational content. Strive to make one or two of these other disciplines accessible if a teacher is so inclined to emphasize them.
The most likely examples include:
Current events (if you are writing a contemporary or futuristic serial): bring up issues like emigration, environmental stewardship, individual freedoms, oppression, etc.
Geography: take advantage of settings and travel within your serial by mentioning real places whenever possible.
History: This is especially easy when writing historical fiction, but history concepts can be integrated in contemporary stories as well by having characters learn key lessons from history.
Science/math: If you are writing a science fiction, think of ways to incorporate scientific method, etc. Maybe your hero uses mathematical principles to unlock puzzles and solve mysteries.
Deadlines and Consistency
Due to the unique nature of the publishing process, Epifiction demands strict adherence to the weekly schedule. That means there is no room for writing block or even sickness. If a huge, unforeseen issue arrives, provide as much advanced notice as you can and a fill in author will provide the content necessary to keep the serial running according to schedule.
The students reading your serial will be slobbering over the release of the next episode. We don't want to make them wait any longer than the scheduled release time!
The first 48 hours after the vote are roughly reserved for the author's first and second drafts of somewhere between 2,000 and 5,000 words, depending on the grade level of your audience. The next 24 hours are roughly given to the editor. The editor must have at least 12 hours. Then the editor must send the edited product to both the author and manager at least 2 hours prior to scheduled live posting. During these final hours, the author has the opportunity to request last minute changes. The manager has the ability to make last minute changes as well. The post goes live, the vote clock begins and the readers have the next three and a half days to read, vote and discuss. Then the cycle starts all over again!
Author Platform Development
Before, during and after the live run of your serial, there are several ways an author can develope their platform, reach and influence via Epifiction. Here are the ones we highly suggest and/or require!
upload current information for you bio, including places you live online (such as Facebook, wattpad, etc.)
interact with the students via the comment sections on each episode
fill out your available times in the google hangout calendar in order to visit with classrooms who sign up.
put your best effort into each episode and the voting options
have follow up ebooks and/or episodes available for sale in the Epifiction store before your live run ends.
sign up as a willing Epifiction guest speaker/writing coach for any participating schools in your region (school visits will always include a trained Epifiction speaker in addition to participating authors).
preorder any promotional materials and/or paperbacks (in addition to your Epifiction serials) you want for school visits and workshops.
Contribute posts of interest for students, teachers and parents on the Epifiction blog before, during, and/or after your live run.
Release Form, Odds and Ends
Finally, there are a few important technical things to take care of. First off, CLICK HERE, to see and sign the release form and terms and conditions. If you can't agree with these, that's an issue.
As the platform evolves, questions on how to navigate the site and get all your content where it belongs will inevitably rise. Check HERE for the most up to date FAQ on how to use the platform as an author. If you have questions not covered by the FAQ, please don't hesitate to email: david@epifiction.com