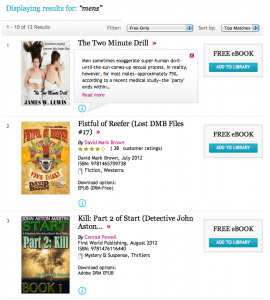 I've tracked www.Kobobooks.com for several weeks now, keeping my eye on the following things:
search and sort capabilities
customer service
the writing life platform
the app, the eReader, etc.
My intent has been to deduce whether Kobo seems to understand what it will take to become a serious player in the eBook retail universe currently dominated almost exclusively by Amazon and their Kindle store. My perspective is unabashedly that of an indie author. Today's post will discuss Kobo's search and sort capabilities. (Follow the linked bullet points for the other posts.)
Results: Searching and Sorting
Shelf space has been heralded as the game changing factor of the eBook age. No longer are books, readers or authors restricted to the physical space of brick and mortar stores. As a result smaller genres and niche and/or genre bending stories have more likelihood of gaining readership (theoretically).
But these eBooks still have to grab the attention of readers in order to be read. SEO has become the new shelf space. Search capabilities and clever algorithms (killbots as I like to call them) rule the day. So, for Kobo to be a real player in the emerging eBook retail sector it would stand to reason they must address this critical need. How have they done?
I've already written about Kobo's genres lists and recommended reading lists. The fact Kobo has these lists is a positive. For the most part their genre listings follow the Book Industry Communication standards much like Amazon. These lists help readers find books they might be interested in.
Kobo has two basic ways to search
First, one can browse the category (genre) listings I've just mentioned. Navigating these can be a little confusing due to the difficulty of classifying some genres. Something like Steampunk tends to float around from Historical to Science Fiction to Adventure. Currently Kobo has the Adventure and Action classification under Mystery and Thriller, which may not be intuitive to many.
These genre lists can also be sorted to help in your searching. The default is "Bestsellers." I have not been able to deduce whether this term is based on pure number of units or if pricing effects this. But free titles do not rise to the top of these lists, so free sales almost certainly to not count the same as others. Usually the top ten in any genre will combine some expensive titles and some 0.99 to 1.99 titles. Kobo also allows sorting by price, rating and title.
That being said, the rating sort is almost worthless due to the fact Kobo does not weigh titles with 1 five star rating any differently than ones with 40 five star ratings. So the top of the list consists of books mostly with a few five star ratings from friends and family. The price sort is not much better due to the fact it does not include free books and that any given genre may have hundreds of titles at each price point (0.99, 1.99, etc.) Some gaming of this has begun with titles being set at 0.98 and 1.98, etc. But so few people use the price sort that this appears to gain the author/publisher nothing.
Second, one can search Kobo using the search field in the top right corner. This feature has tons of potential, but Kobo has not made the most of it. If you know the author or title of a book, sure. Type it in and if you get the exact name or pretty dang close, you will probably get what you want. But this search feature is not as intelligent as it should be. Some examples:
Type in Zombie and get 370 titles with the word "zombie" in the title. No Dawn of the Dead, Walking Dead or Day by Day Armageddon, because they don't have the word Zombie in the title. Search for the word Zombies and get a whole different list of books with the word "zombies" in the title.
Search for "World War Z" and the Hunger Games come up as the 3,4,5 and 7 options of the top 10. Pride and Prejudice comes up #8 (not the one with zombies).
Type in "Steampunk" and get 64 results, again, only ones with the word "steampunk" in the title.
Searching for broader genre identifiers is still hit or miss. Sometimes the results are spot on, others not. Kobo seems to be in the process of improving this.
But, it is evident Kobo is working on this. Two months ago my search for "pulp fiction" brought up everything with either "pulp" or "fiction" in the title. Now it brings up only 10 titles with "pulp fiction" in them–a little more helpful.
After executing your search Kobo gives you the option to "sort" and "filter." The default sort is "best matches," which is usually not all that helpful unless you are looking for a specific title or author. You can also sort by "bestsellers," "price," "rating," and "Title." Again, bestseller is the most helpful. But due to the low volume of sales on Kobo now a title with only a few sales could be at the top of the list.
Here is where things get both interesting and disappointing. Kobo has a "filter" option that comes up only after doing a specific key word search. This allows the reader to filter the search results for stuff like "pdf" and "free." This is basically the only way to shop for free titles in the Kobo store. But when using the "free" filter the "bestsellers" sort feature disappears. Kobo simply doesn't have a way to track free sales. I inquired about this and they sent me back a rather general response saying they had plans to enhance their tracking capabilities (not mentioning free at all).
So, for free books one is forced to do a keyword search for "fiction" then filter by "free only" and sort by either "best match" or "rating." When sorting by "rating" the first 370 titles have been given a few 5 star ratings. My free offering, Fistful of Reefer comes in around 463 with 38 ratings that average out at 4 star.  There are currently 5591 free titles under "fiction."
Due to recent changes one can now search for genre keywords such as "action," "western," etc. and then filter by "free only" and sort by "rating" or "best matches" and end up with a decent list of free titles that will most likely fit what the reader is searching for.
Kitten or Lion? Baby Lion
Kobo has made improvements in their search capabilities even over the two months I've been watching them closely. So they seem to understand the importance of helping readers find niche material. But in my opinion two things are still keeping them from playing with the big cats.
1.) lack of flexibility in keyword searches. Amazon's tagging system really goes a long way in helping customers sort material very specifically. Sure, the tags get used for all sorts of nonsense as well, but overall I have found them to work.
2.) no free sales tracking! This is a big one for me. I think tons of eBook readers find new authors and new genres via free content. It is the way people browse these days. When a reader feels adventuresome enough to try something or someone new, they will rarely be adventuresome enough to pay for it. Not only does Kobo lack a simple and straightforward way to search free books (unless you are looking for classics in the mainstream genres), but Kobo does not allow for tracking sales stats on free books. This is a serious party foul in my opinion.
Bottom line, Amazon is still leaps and bounds ahead of Kobo in this area. Author pages on Amazon even have similar author recommendations! But it appears that Kobo is making moves in the right direction. I'm optimistic they will develop roving killbots of their own which could some day compete with Amazon's.