"Sergio Leone would have killed to film FISTFUL OF REEFER. Harry Turtledove would admire the way history has been skewed. Others will love the notion of the Lost DMB Files. The estimable Mr. Brown has really latched onto something here." — Mike Resnick
Welcome to the pulp world of the Lost DMB Files
The Lost DMB Files (always interject a "Viva this!") delivers a surge equivalent to a cocktail of one part serotonin, two parts adrenaline, with a dash of grenadine served over ice. It scratches the urge primeval. Combining the readability and smooth consumption of a beach house page-turner with the kick to the face of a summer blockbuster movie, Reeferpunk entertains without dumbing down.
Fistful of Reefer (lost file #17)
A double-fisted, dieselpunk, weird Western pulp featuring goats,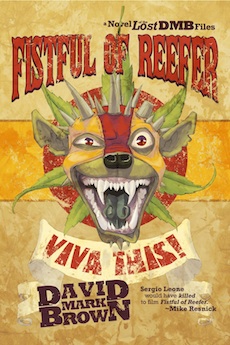 guns and the camaraderie of outcasts, Fistful of Reefer lives somewhere between No country for Old Men and The Three Amigos.
The year is 1918. Chancho Villarreal and his Native American friends, Muddy and Nena, live a quiet life on their goat ranch and marijuana farm north of Del Rio, Texas. But when ghosts from Chancho's revolutionary past combine with local panic over stories of the demon El Chupacabra, the three friends inadvertently draw the attention of Texas Ranger, J.T. McCutchen.
To stay ahead of McCutchen's brutal brand of justice, the three friends are forced to pack up all their worldly possessions, including their marijuana harvest and herd of goats. What follows is an action-packed ride across the wilds of a weird-west, dieselpunk Texas haunted by rumors of Chupacabras behind every bush.
Get your Fistful of Reefer (Lost DMB Files)
 today!