"Sergio Leone would have killed to film FISTFUL OF REEFER. Harry Turtledove would admire the way history has been skewed. Others will love the notion of the Lost DMB Files. The estimable Mr. Brown has really latched onto something here." — Mike Resnick

"Exploding with double-fisted, cheek-puckering action, including the world's fist parkour stunt horse, THE AUSTIN JOB dares you to cinch your  saddle to a bolt of Lone Star lightning and hold on for dear life." ~Thomas O'Donnell
Welcome to the pulp world of the Lost DMB Files
The Lost DMB Files (always interject a "Viva this!") delivers a surge equivalent to a cocktail of one part serotonin, two parts adrenaline, with a dash of grenadine served over ice. It scratches the urge primeval. Combining the readability and smooth consumption of a beach house page-turner with the kick to the face of a summer blockbuster movie, Reeferpunk entertains without dumbing down.
The Austin Job (lost file #18)
When gubernatorial hopeful, James Starr, unearths the maniacal plans of a fire-crazed anarchist to reduce Austin to cinders, he's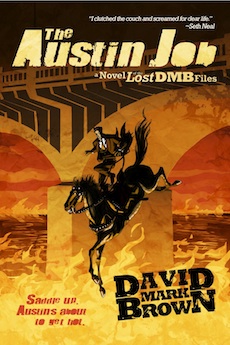 sucked into a world of power and lies threatening to destroy him before he can save the day.
With the world embroiled in the Great War, power-hungry forces threaten to tear apart the state of Texas in a secret plot to rule the resource that will fuel the future. In The Austin Job, James Starr, bronc rider turned politician, stumbles into a high stakes game of power and lies that he must master before it masters him.
In this second book of his Lost DMB Files series, Author David Mark Brown invites the reader into a world illuminated by human torches and moonlight towers, an underground Austin inhabited by machine and monster alike, where what you don't know can get you killed–or just really, really messed up.
Buy at Amazon: The Austin Job (Lost DMB Files #18)