This week's Read it! Review it! Share it! involves an urban fantasy coming of age tale laden with Native American lore. An enjoyable (if not flawless) performance. (I've been watching too many olympic competitions.)
The Dryad's Kiss (2nd Ed) (The Chronicles of the Mighty Finn)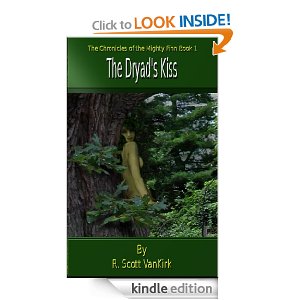 I've gone and read another young adult book! It just keeps happening against my will. But The Dryad's Kiss has a hint of that Stand By Me/Super 8 retro feel that drew me in (despite an opening dream sequence!). In truth the first couple of chapters left me wanting to skim read.
But when Finn embarked on a morally questionable unearthing of a haunted burial mound with his father and uncle, the text found its voice and came alive. Finn's voice-cracking, wobbly-kneed youth becomes endearing as he wrestles with everything from common sexual attraction to mystical revelation.
Overall I think Vankirk and his protagonist the Mighty Finn recover from a few missed cues early in the routine in order to stick the landing. Read it! Review it! Share it!