This week on Read it! Review it! Share it! we're gonna' reload a western I recently blabbered on about right here on the Green Porch. So saddle up! Again.
The Mule Tamer II, Chica's Ride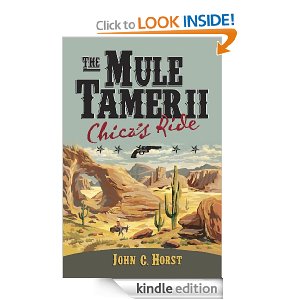 In the first Mule Tamer adventure Arvel Walsh meets the wild Chica (who becomes his wife). The sequel focuses on Chica as the title indicates (says Captain Obvious). In the time since the first story she has had a daughter and become quite the civilized and domesticated mother (even to the approval of her mother-in-law).
But in tried-and-true western fashion, Mule Tamer II opens with a train heist at the hands of the despicable Sombrero del Oro. Chica's daughter is taken out from under her and her abuelita. In response she goes old-school in a brutally splendorific manner.
Combining nice amounts of family saga and action, this is a great Western story at a time when Westerns are just beginning to crawl back into the mainstream awareness. If you like kick-butt heroines you certainly won't be disappointed.
The main negative for me was a difficult to navigate point of view jumble in the opening chapter in which the author jumped from intimate POV's without even so much as a paragraph break. While I appreciated the attempt to grasp an overall picture of the train and its occupants, I desperately wanted a double return (or something) between each jump. But the madness subsided quickly, and the action drew me back in. Read it! Review it! Share it!