This week on Read it! Review it! Share it! we are taking a meander into the eery both mainstream and alternative. Fist apocalyptic and then paranormal… spine tingly-dingling!
The Road
The name Cormac McCarthy is recognized by many as a master of a new sort of southern gothic, a stark voice of the American rural, blue-collar stiff. What he does is a little different, and he does it in a way that only a really brilliant writer can get away with. This honks some people off. Not me. While I don't think The Road is his best novel, I really enjoyed it.
The United States as we know it is gone. What made it so is not specifically mentioned. But a man and his son are traveling a road from the northern, colder climate southward toward the coast. Why? The body and mind need something to seize upon for survival. What of human relationship in such a world? What of hope and purpose? This is the emotional guts of this haunting story. Read it! Review it! Share it! ***warning: this ebook is currently $12! Ouch!
Amador Lockdown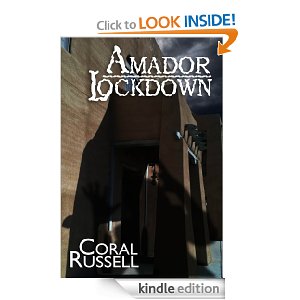 Meet the Paranormal Posse, based in El Paso, Texas. A group of otherwise total opposites come together over their shared fascination with the paranormal. Geeky, yes. Compelling and intricately human, hell yes. Amador  Lockdown accomplishes a nice balance of spooky without making one's head spin before vomiting. I'm not a horror movie fan. I don't dig making light of evil stuff. But this novel finds a good human groove early on and sticks with it.
The Amador Hotel in Las Cruces, New Mexico is the focal point. The author, Coral Russell, unfurls the setting via several eye witness accounts before having the main characters actually on location. This is her first well calculated effort at building the suspense in a story that escalates all the way through to the end. Overall, the story mixes a bit of the human, the paranormal and the historical into a enjoyable read. Read it! Review it! Share it! (for only $0.99!)