This week on Read it! Review it! Share it! we are stepping out into a dystopian Arizona and a fantastical alternate history. Time for imagination to run wild!
The Zona
There has been an environmental disaster. Sea level has risen dramatically. Everything from before is remember as the Broken Times and the survivors of the human race have split between people just wanting to scrape what living they can and those who have born a super-fundamentalist religion, one imposed forcefully and rigorously on everyone.
The Zona is creative and vivid. The language is just the way I like it, overwrought. But within the dystopian waste of a burning hot Arizona the overcooked language works most of the time. The lead character is known as Lead (cheeky, huh?) He starts off as self-righteous and somewhat hard to like, but the setting drags you into the story. And the pacing keeps you reading. A great read for fans of dystopia. Read it! Review it! Share it!
Wild Cards I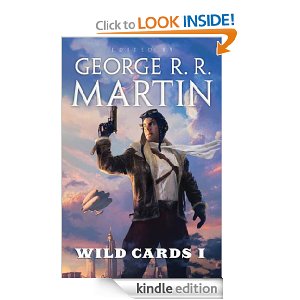 Breaking from my mold, this collection of stories is not published independently. But I couldn't put off reading the book any longer. History diverges after WWII when an alien life form lands on Earth in attempt to warn us of a strange virus that becomes known as the Wild Card virus. Some people it gifts with super powers, some with monstrous deformities. Thus it creates Aces and Jokers.
Each story within the Wild Card universe is written within the same alternate history, but they can involve new characters or old–written by a variety of authors in a variety of styles. They are all good.
This first volume starts with a dieselpunk-retro-atomic flare that is ridiculously enjoyable. It is classic vinyl sci-fi with a modern attitude. And the details of the alternate history are forked over at such a teasingly slow pace that it is tough to stop reading. My waiting to get this book paid off when the ebook price fell to $2.99! (still there at time of writing). Read it! Review it! Share it!