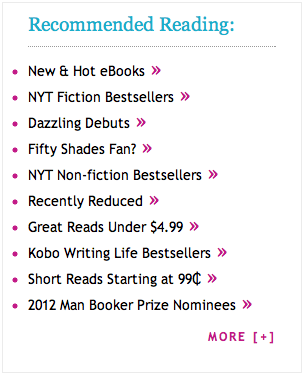 I've tracked www.Kobobooks.com for several weeks now, keeping my eye on the following things:
recommended reading lists
search and sort capabilities
customer service
the writing life platform
the app, the eReader, etc.
My intent has been to deduce whether Kobo seems to understand what it will take to become a serious player in the eBook retail universe currently dominated almost exclusively by Amazon and their Kindle store. My perspective is unabashedly that of an indie author. Today's post will discuss Kobo's recommending reading lists. (Follow the linked bullet points for the other posts.)
Results: Recommended Reading Lists
Depending on how you arrive at the kobo store (none of this applies to the kobo application) the left bar will look slightly different. But all configurations include some variation of "browse by category" lists, "Recommended Reading" lists and "Today's Top Fifty" (top 50 bestseller's list).
The category lists take you to the same genre lists we've already explored. The top fifty is just that, and it is refreshed on a daily basis as advertised. This list appears to be where the vast majority of Kobo shoppers shop.
The "Recommended Reading" lists seem to be an integral part of what Kobo is trying to do to court both readers and publishers. But I found their methods rather disappointing and their results even more so.