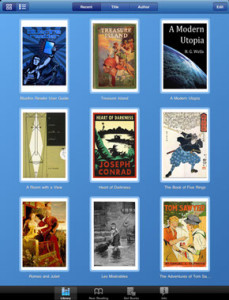 When it comes to delivering serial fiction directly to the reader, Amazon has set the bar high. By operating the Kindle Serial Store, creating the Kindle device and rendering their branded ereading app ubiquitous across multiple platforms (iOS, Droid, etc.), they can take your money and deliver the product to your reading device of choice with one click. Booyah. And they will continue to deliver the serial installments every two weeks until the story has run its course. (Pay once, ie. subscribe, and the rest takes care of itself.)
If any storyteller is serious about monetizing serial fiction outside of the Kindle Serial Store, this high bar has to be the goal. Readers will demand it.
One Click Must Do it All! (But How?)
How does an indie writer attempt such a monumental technical and organizational feat? The most obvious solution to me was also the least practical: Create a specialized app of my own that will bridge my fiction onto every smartphone and tablet out there with access to Droid, Windows, or iOS app stores.
Since this requires a chunk of change upfront, as well as the determination to update the application continuously across all platforms… I quickly crossed this off the list of personal options. I don't want to go into app development. I want to write stories from which I generate a living wage.
That leaves the indie writer/entrepreneur shopping for go-between services and trying to piece together a network to mimic the one Amazon has built. Let's break down the necessary pieces: (and my preferences so far)
Read moreSubscription Based Serial Fiction: The Technical Problems