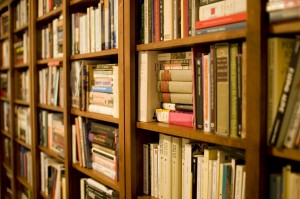 As a novelist, I'd honestly rather see my books hit the top 100 sci-fi list in the Kindle store than the New York Times for one simple reason–money. I'm a full-time genre fiction author scratching a living from the  aether one ebook at a time. And thanks to things like keywords, tags, SEO, Amazon killbot-algorithms and Facebook I can do so by writing almost any sort of fiction I choose as long as I abide by the new set of rules still being forged in the fires of the briny ebook cauldron. Those rules seem to be guided by a few dynamics (drum roll please).
Shelf Space
In the not so distant past an evil committee chaired by Oprah and staffed by the likes of Big Brother, Rupert Murdoch, and a rogue zerg overlord made all the decisions on what books were allowed shelf space (and thus sales) at the corner Barnes and Noble. For decades the triad has remained romance, mysteries and thrillers. Science fiction has long been accepted with a wink and a nod as the android Cinderella sweeping out the storeroom (where literary fiction camps out on permanent smoke break).
Ebooks have changed all that. Can I get an amen? How about a Qapla? Because this change is a good fortune indeed for the geeky among us, both writer and reader. As any geek knows, things starting in "i" or "e" tend to be improved (an iPhone is better than a phone, right?).