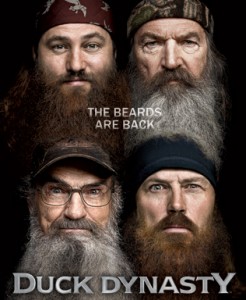 For the last several months my mother has been trying to get me to check out the A&E series Duck Dynasty (now in its second season). Unlike most rednecks, I don't have cable, dish and Direct TV spliced from a neighbor and/or duct taped to the roof of my trailer.
Last winter I did a Google search for it and barely found any results. I couldn't find it on Hulu or Amazon or any other such service, and Google seemed to think I had lost my search mojo. So I let it go until I spotted it on Hulu the other day in a banner ad (oh how the redneck has risen).
Having only viewed the two free episodes provided via Hulu, I'm certainly no Dynasty guru. Those two episodes did convert me to a fan. While Good Morning West Monroe didn't seem to pop or drip with redneck witticisms quite as much as Spring Pong Cleaning, I enjoyed both episodes. (My favorite moment in Pong Cleaning went something like, "Everyone loves violence. So we wondered, how can we make ping pong more violent. Pink-belly rules.")
More importantly than my enjoyment, the redneck has found its best television representation since the Dukes of Hazzard. Of course reality TV is still a trailer park one tornado away from total loss in my book. But Duck Dynasty involves just the right amount of polish and tweaking to maintain a certain variety show feel that removes the sordid stench of voyeurism that is all too common in some cable, reality shows. The world needs a Big Brother, Redneck Version like it needs a see-through johnny can. (Although a Redneck Survivor might work okay.)
And unlike some other shows I've caught wind of lately, (History Channel, I'm looking at you) Duck Dynasty isn't laughing at rednecks in the slightest. The Robertson family comes across as clever, witty and crass. Nobody's fool, these simple yet wise country folk ain't the Beverly Hillbillies. Their uncomplicated clarity of mind sees through the ridiculousness of things such as Home Owners Associations and laser eye surgery. As Uncle Si puts it, if a pair of glasses are good enough to help him tell the difference between a Muscadine berry and a coon dropping, then he'll take it. If only we all were so practical.