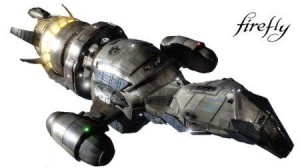 [This week I'm reviving a classic post from two years ago. Gosh darnit, it's just so timely.]
In case you are unaware, the best show on T.V. to never finish a single season is incontestably and unarguably Firefly. It aired and was cancelled in 2002. Many diehard, Firefly freekies will tell you the show was cancelled due to conflicts from the creator working on another show, or due to the fact the first two episodes were mysteriously aired out of order (as in not first).
Stick in the mud types will tell you that it was due to low ratings. (Pshaw.) I'm here today to tell you the truth. Bipartisan politics (the only true instance in the last twenty years).
Bipartisan Politics Cancelled Firefly
You see, the plot line for Firefly is about a browncoat independent who fights for civil liberties in order to stick it to the man by encouraging a free-trade economy based on bartering and simple living and implemented by a diverse, bipartisan crew of federation outsiders. (I know. How did the creators ever think they would get away with such a thing?)
I mean the crew of the firefly-class ship named Serenity stole from the rich and gave to the poor while breaking federation law left and right. The crew itself consisted of a robin-hood style captain, a hippy pilot, a mercenary, a tough-girl, a liberated yet conservative female grease-monkey, a priest, a WASP doctor, an idiot savant and a high-class call girl. The show was basically a 21st century version of Dukes of Hazzard in space.
The last thing either Democrats or Republicans on the hill wanted in the go-go 2000's was fiscal responsibility and some libertarian nonsense bundled up and marketed with the attractive face of Nathan Fillion (who, God bless him, finally got a long-lived role with the T.V. show Castle). Economic independence and social responsibility side by side? Madness! Plus, it's a pretty well documented fact the George W. wanted the lead role as Captain Mal Reynolds. If he couldn't get it, nobody would!
Mark my words.
If Firefly would have been released with the economy in the crapper and Obama in the White House, it would have been a smash hit. Right now, gunslinging libertarian outsiders with a fresh take on social justice and simple living on a space ship would be just what the doctor ordered. For some reason (a nod is as good as a wink to a blind man) 20th Century Fox is still sitting on it.