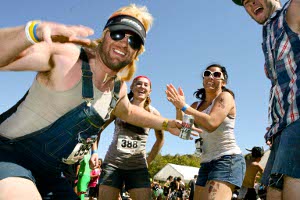 Everyone has their opinion about what the next olympic sport should be. But in the true unifying spirit of the Olympics, I humbly offer an idea ten times better than yours–redneck volleyball.
If like me you've grown tired of watching supple and well-oiled human bodies accomplish amazing physical feats so demanding that only an unbalanced individual could accomplish them, then redneck volleyball is for you.
The Pit
Played outdoors, the pit can consist of anywhere between 20% to 80% sand with the rest of the particulate matter ranging from dirt, weeds, manure and/or gravel. Changing conditions from location to location is part of the challenge. Teams consist of anywhere from 5 to 8 players with any 5 in the pit at once.
The main stipulation for forming a team is that all members must be related in some manner or another (common law marriage is fine).
This is where it gets good.
A match consists of two regular-length sets of 21 points. If a single team wins both sets then the match is over. If the two teams split sets then the winner is determined by how many hotdogs and cans of beer were consumed during regulation play.
Players are allowed to leave the pit at anytime to stock up on more beer and hotdogs, but the only time play stops (briefly) to allow such grazing is during the switch between ends of the pit every seven points.
Penalties are extracted for spilling beer or losing tube meat. Alternatively, style points are awarded for outstanding saves.
If both teams get tired before a winner can be determined, or if both teams lose track of the score, then a draw is announced and the remaining mobile players split the remaining beer and hotdogs.
During the award ceremony, the Unites States national anthem has traditionally been played to the tune of Lynyrd Skynyrd's Sweet Home Alabama. But to achieve official olympic status this may be bypassed.
There you have it. An Olympic game for those of us who just want to mix a little sport into our lives rather than sacrifice our health and wellbeing in the name of physical achievement. But don't let the laid back nature of the game fool you. Don't try to compete with seasoned Redneck veterans without sufficient practice. Beer, volleyball and tube meat can be a delicate balance.