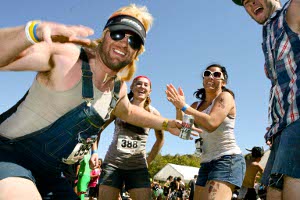 Everyone has their opinion about what the next olympic sport should be. But in the true unifying spirit of the Olympics, I humbly offer an idea ten times better than yours–redneck volleyball.
If like me you've grown tired of watching supple and well-oiled human bodies accomplish amazing physical feats so demanding that only an unbalanced individual could accomplish them, then redneck volleyball is for you.
The Pit
Played outdoors, the pit can consist of anywhere between 20% to 80% sand with the rest of the particulate matter ranging from dirt, weeds, manure and/or gravel. Changing conditions from location to location is part of the challenge.