This week on Read it! Review it! Share it! I'm taking us back into the world of steampunk. But this ain't your daughter's steamy McSteampunk. This is genuine anachronistic steampunk.
Spring-heeled Jack and the President's Ring (The Magnetron Chronicles)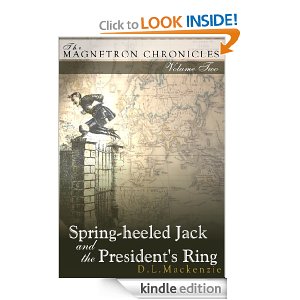 First I have to clarify. This is a steampunk serial adventure, but it is not the The Strange Affair of Spring Heeled Jack by Mark Hodder. This one is by D.L. Mackenzie. Part of a planned 5 novelette serial, this second installment picks up with the solving of the mysterious death of Dr. Hogalum by Phineas Magnetron and the rest of the Hogalum Society (Think League of Extraordinary Gentlemen with the emphasis on gentlemen).
Truly anachronistic, witty and fun these stories embrace a vocabulary-stretching voice that reflects the Victorian era while sneaking in a bit of the post-modern sense of humor. With a Sherlock Holmes sort of intellect Magnetron endeavors to unwrap the mystery of his deceased mentor all the while coming up against Compost, his arch-enemy.
The supporting cast of gentleman are noteworthy as well. Despite the number of characters, Mackenzie manages to keep them set apart with unique names and backgrounds. There is not a tremendous amount of character development to slow down the story, but each of the gentlemen stands in a position to be called upon to carry a storyline when needed. (A nifty feat for a serial).
While there is a smaller story arc that comes to resolution within this serial, it feels like a minor note in the overall arc. This frustrated me somewhat, but I suppose that is the point of a serial. (Think TV mini-series in print.) At around 100 pages I recommend you Read it! Review it! Share it!