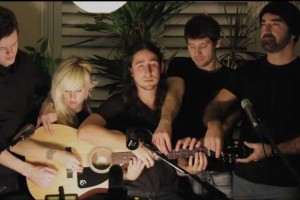 If you're the sort who has just opened a FaceBook account or are still resisting the thought of electronic reading, well, you aren't going to like this. But the mode of storytelling continues to evolve.
YouTube is nothing new. Actually, it had it's seventh birthday in February. In world wide web years, that's like 138. (Take the number of months x 2, then subtract the number of years x 5, then add 3). But, with any new mode of story-telling it takes a while for the babe to step from the woods, learn to shave and then grow a full, luscious beard.
Lots of YouTube channels have done just that. But a noteworthy one which has recently come to my attention is Walk Off the Earth (Wote). Wote is a musical troupe expanding the boundaries of the audial story via YouTube.
Why is this sort of thing worthy of a blog post? Well, dear reader, quality storytelling is always worthy of adulation, in whatever form we may find it. But in this blink-of-an-eye, ethernet world, true storytelling has become even more important.
You see, regurgitating television clips from the nineties–not really storytelling. Creating a slide show of bathing beauties set to trailer park heavy metal–not so much, but at least its a start! Recording an original song and uploading it along with a slide show of stock photos–we're getting there. This would be the equivalent of a first-time storyteller sitting around the fire and telling about the time his aunt Ooga stepped on a discarded sabertooth tiger tooth.
What Wote is doing qualifies as original, rich and insightful storytelling. And amidst a storm surge of nut-shots, booty-shakes, and copyright infringements, a good story is a refreshing thing. Amen and amen.