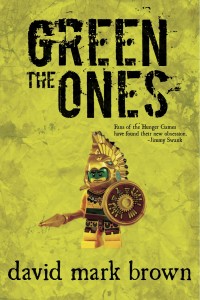 In a manner of speaking. Even more exciting, the DMB Files universe is expanding into young adult dystopian literature (similar to The Hunger Games) with my latest project, The Green Ones. For those of you who are new to the DMB Files, or have lost track (I'm shifty, I'll admit), The Green Ones marks the third separate series of stories colluding within the same fictional universe (alongside the DMB Files and the Lost DMB Files).
While the Lost DMB Files sport a pulpy/punk flavor and range between 1912 and 1930, the DMB Files take on a sci-fi/fantasy thriller edge and push into the near future. Soon these two series will be joined by a dystopian crossover serial. The Green Ones will run concurrently with the DMB Files, but…with a twist. (Sorry, I'd hate to spoil the surprise for you. But if you've read De Novo Syndrome and Desert Gods, you know where this is going.) Here is a bit more as far as product description for The Green Ones:
An Earth rampant with telekinesis results in isolated city-states forced to live beneath protective domes. Among the Americas, New Teotihuacan has arisen as the most powerful thanks to its strict social classes and teenage fighting force known as masazin.

A resident of New Teo's worker city, Calli Bluehair, loses her parents in a telekinetic storm caused by her little brother, Olin. Two years later, the siblings have five days to make final preparations for their last chance at a better life–Masa Academy and it's famous graduates, the masazin.

Those who survive the academy are rewarded with immortality. But only loyal citizens, ages 14-15, are allowed to register. If Calli can't conceal their sordid past, she and Olin will live out their last years as twitch infected chadzitzin condemned to the violent and self-indulgent underground of worker city. Unfortunately, the little they know of their past is only the tip of the iceberg.
So why am I telling you this now?
Well, if you are the type who likes to get in on the ground level, I'm currently looking for a few more quality BETA readers willing to exchange early access to the stories for constructive critism on how to tighten them up before final publication. If you are a fan of such fiction as The Hunger Games, Divergent or Ender's Game, these serial stories should be right up your alley.
Those interested would receive the stories in whatever file format they wish (for free). In exchange I ask for your HONEST opinion on how to make them better. The stories should be pretty close to their final version (minus a thorough copy edit). I am not looking for editing! Again, these stories will be published as serials. That means each story will be told in 40 page to 80 page episodes, as well as being further grouped into Seasons of several episodes. The Green Ones represents season one and currently consists of one episode out of an approximate five.
Interested? Comment on this post, and I'll be in touch!