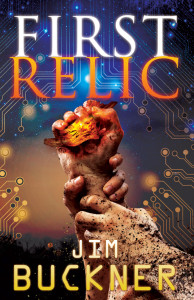 Strap in and pop a dramamine. The ride continues with the introduction of my newest series, Relic Hunters. First in the series, the aptly titled First Relic, continues with familiar characters from the DMB Files…but with a twist. (You'll have to read it to find out!)
I'm describing the two series as parallel. Book #1 of either series serves as an ideal starting spot. Knowledge of one series is not required to enjoy the other, but reading both will provide a fuller understanding. And if that hasn't made your blood boil, I'll soon be publishing season one of The Green Ones (a dystopian serial) which will weave it's way back and forth through both of the other series. The Green Ones will also serve as on on ramp capable of being enjoyed in isolation from the rest of the DMB universe.
Mine is a truly dizzying intellect. (Or so they say.) I can't help it. Before I know what has happened, I discover a new angle into the universe of my own creating (and named thusly) and follow it into a new series of books.
I don't plan on stopping the madness anytime soon (probably for as long as sales continue to climb). Next on the docket I hope to stumble into something along the lines of the Young DMB Files (for middle grades), or a redneck, comedy spin off based from the DMB Files. At the same time, I'll be trying to complete a new novel in each of the existing series every year. (I think I can, I think I can.)
Buy my Book!
If you're ready to plunge deeper down the rabbit hole, check out First Relic at Kobo Books, or Barnes and Noble, or click on the image below for Amazon.
And as always, enjoy the show!