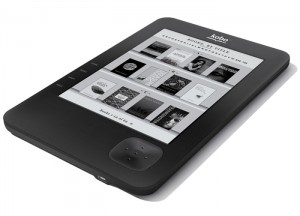 What the world needs now is an online version of the neighborhood book store, for eBooks. Kobo, I say it should be you.
It appears inevitable that the Department of Justice will soon dish out a top-rope body slam to the world of traditional publishing. For those who haven't been following the matter like so much O.J. carnivality let me explain. No, there's no time. I'll sum up. "Colluding" major publishers will no longer be able to dictate the price of eBooks. Thus online retailers (ie. Amazon) will be able to affectively sell major titles for whatever price they want (without suffering a year end loss).
Bad News for Readers
Alas, I am feared this heralds bad news for both writers like me and readers like you. "How do you figure?" you might ask. Well, gentle reader, even though eBook prices on some of the most popular titles will most certainly fall (good for readers) the end result of this could be a loss of diversity for the written word (bad for readers unless you only want to read vampire romance and legal thrillers).
Crap man, and just when the eBook revolution was cracking the market open for all sorts of original (some terrible, some terrific) creations of fiction. Now it appears inevitable that lower prices on major titles will squeeze indie authors out of a job. If The Hunger Games and the latest Tom Clancy thriller are available at $7.99 (or less) how many readers will continue to take risks on unknown authors for $4.99?
Enter Kobo Books (or any other eBook retailer with the gonads to step up). What do you think will happen this December and January (largest eBook selling time of year) when Amazon drops eBook prices on their hottest titles to three nut-shots below suggested retail? Will B&N or iBooks or anyone else be able to compete? (The answer is no. Amazon sells so many more copies they will be able to recoup their Christmas losses with regular price sales over the rest of the year.)
So no other eBook retailer can hope to compete with price on all the hottest titles. But what about all the other great books out there? So far Amazon has not only had the cheapest prices but also the best selection along with great search capabilities. Kudos to them.
But this is an area open for competition. By winning over readers with $4.99 versions of Twilight, Amazon is inadvertently crushing authors like me. I'm no Amazon hater. They've done quite a lot to help the indie author thus far. But I hold no allegiances… yet.
Here is My Plan
Kobo, listen up. Here is my plan. Continue what you have started with your Writing Life publishing platform. Keep courting indie and self-pubbed authors. So far so good. But one thing you lack–the customer service that ensures readers of a discovery they wouldn't have made elsewhere (ie. the local bookstore feel).
Kobo, if you were to elaborate upon your search capabilities and internal recommendations based upon what Kobo shoppers already have on their library shelves… If you were to take it upon yourselves to be curators of new and upcoming indie talent… if you were to take your courtship of the self-pubbed professional two steps further, that could be a precious dagger for with at Amazon to jab!
What of all those readers desperate for something beyond the NYT best seller list? Those readers yearning for a fresh new voice? Or the genre readers searching for their next niche series? All of the complex innovations Amazon has enlisted to help match readers with previously undiscovered books are duplicatable. With a little more focus and attention, I dare say they could be surpassed.
The Department of Justice has been right about one thing. Competition is good. Let's hope they haven't crushed it with their decision. Kobo, I'm looking at you. (B&N, I've long given up looking in your direction.)