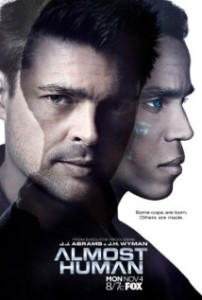 How long has it been since the world has been blessed with a cop show featuring two male partners? A true buddy show? Not counting TV series such as The Wire or The Shield (these sort of fall in a different genre for me)… I can think of White Collar… and that's about the only recent example–until now.
There are multiple reasons I'm enjoying Almost Human: I'm a sucker for sci-fi, I enjoy crime mysteries, etc. The feeling of the show lands somewhere between Dollhouse and Castle (two shows I love). But the biggest reason is the pairing of the physiologically broken human with the physiologically broken android, both of them dudes.
I'm tired of all the chicks. Even Sherlock's Watson has to be a hottie now?