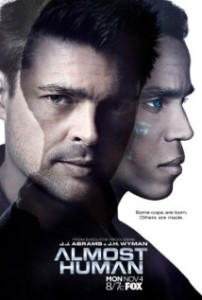 How long has it been since the world has been blessed with a cop show featuring two male partners? A true buddy show? Not counting TV series such as The Wire or The Shield (these sort of fall in a different genre for me)… I can think of White Collar… and that's about the only recent example–until now.
There are multiple reasons I'm enjoying Almost Human: I'm a sucker for sci-fi, I enjoy crime mysteries, etc. The feeling of the show lands somewhere between Dollhouse and Castle (two shows I love). But the biggest reason is the pairing of the physiologically broken human with the physiologically broken android, both of them dudes.
I'm tired of all the chicks. Even Sherlock's Watson has to be a hottie now? Of course Almost Human features a hot chick in a supporting role and the department head is a chick (played by the talented Lili Taylor). But the witty banter and dynamic that drives the show is between the two male partners.
And so far, I think it has been done masterfully. The best comparison I can think of was the relationship between James Spader's and William Shatner's characters on Boston Legal. While Almost Human hasn't reached this level of intelligence, I'm enjoying the sparks. With mixed gender partners you simply don't get lines about scanning your partner's genitalia to discover they are "at full capacity." Of course this leads to come backs like, "Don't scan my testicles. Ever again."
As with Spader and Shatner, Almost Human partners two individuals, who despite being flawed, are somehow good for each other. Rather than teaming the straight-laced with the shades-of-grey, these guys are both from the island of misfit toys. They're busted. They're bitter. They've got something to prove and demons to slay.
And it is this loose cannon element combined with some quality male bonding that has me hooked. Now I just have to hope Fox doesn't cancel the show by the end of the season.