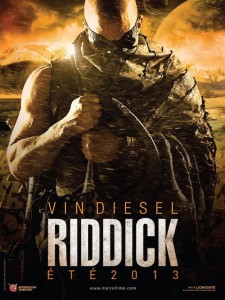 Next to Firefly and it's spacefaring crew, Riddick has long been the science fiction character I've most wanted to see resurrected. That dream has come to pass thanks to a clever play by Vin Diesel himself. The Hollywood Reporter revealed on September 4th that Vin Diesel managed to swap Riddick rights for his cameo appearance in Tokyo Drift back in 2006.
Pitch Black, released in 2000, enthralled me instantly. I absolutely loved the character of Riddick and couldn't believe there weren't reams of books or comics or something. This first Riddick movie did well enough for The Chronicles of Riddick to come along in 2004 and queer the deal. The larger budget follow-up only managed $16 million in profit. That would have been enough of a flop to kill the character if Diesel hadn't acquired it.
Now the actor has staked his pocketbook (and then some) on the third entry into the life and times of Riddick.
Simply titled, Riddick, the movie purports to return to the simpler equation that made Pitch Black so great–bad ass antihero with eye implants fighting scary things that go bump in the night. (I'll be running out to see it as soon as I can squirrel away enough happy points with my wife.)
This happy resurrection of Riddick got me thinking.
Thinking is a highly volatile practice for me personally, and I try not to engage in it more often than fortnightly. After dismissing the legion of ideas that sprang to mind involving serpent bunnies trained in telekinesis and sent forth to do my bidding, I landed on two separate thoughts that continue to linger.
1.) Why hasn't Nathan Fillion been able to wrangle 20th Century Fox into some sort of similar arrangement for Firefly? (Many browncoats have proposed conspiracy theories around this matter for years, me included.)
2.) How do I convince Vin Diesel to let me write additional, authorized stories within the Riddick universe? So far the screen plays from the first two movies have been transformed into novels. I'm sure this is happening for the third movie as well. But beyond that, there is an unlimited horizon out there to play around in. After all, Vin is going to need ideas for his next film. Why not let me jump start the process with a series of heart-stopping, gut-yanking stories that give all those Riddick fans out there something to tide them over between movies. (Not to mention the mind-boggling depth I'll bring the characters.)
Riddick fan fiction anyone?
I figure the first step for me should be to create the most brilliant piece of fan fiction ever written. Then all I have to do is grab the hearts and minds of a few hundred thousand Riddick fans and turn the head of Vin. What do you think? Who wants to read an all new tale involving Richard B. Riddick? (Oh, if anyone out there knows Mr. Diesel, or has a direct Hollywood connection, let me know.)